---
2019 Annual General Meeting
The 2019 Nechako Valley Regional Cattlemens Association Annual General Meeting will be on February 16, 2019, at the Vanderhoof Event Centre (474 East Victoria Street, Vanderhoof). Details are:
Trade Fair 12:00 noon
Annual General Meeting 1:00pm
Dinner 6:00pm followed by a social and dance with DJ.
Dinner Tickets $30.00
Tickets available from Four Rivers Co-op admin office, Nechako Valley Feeds, or at local meetings.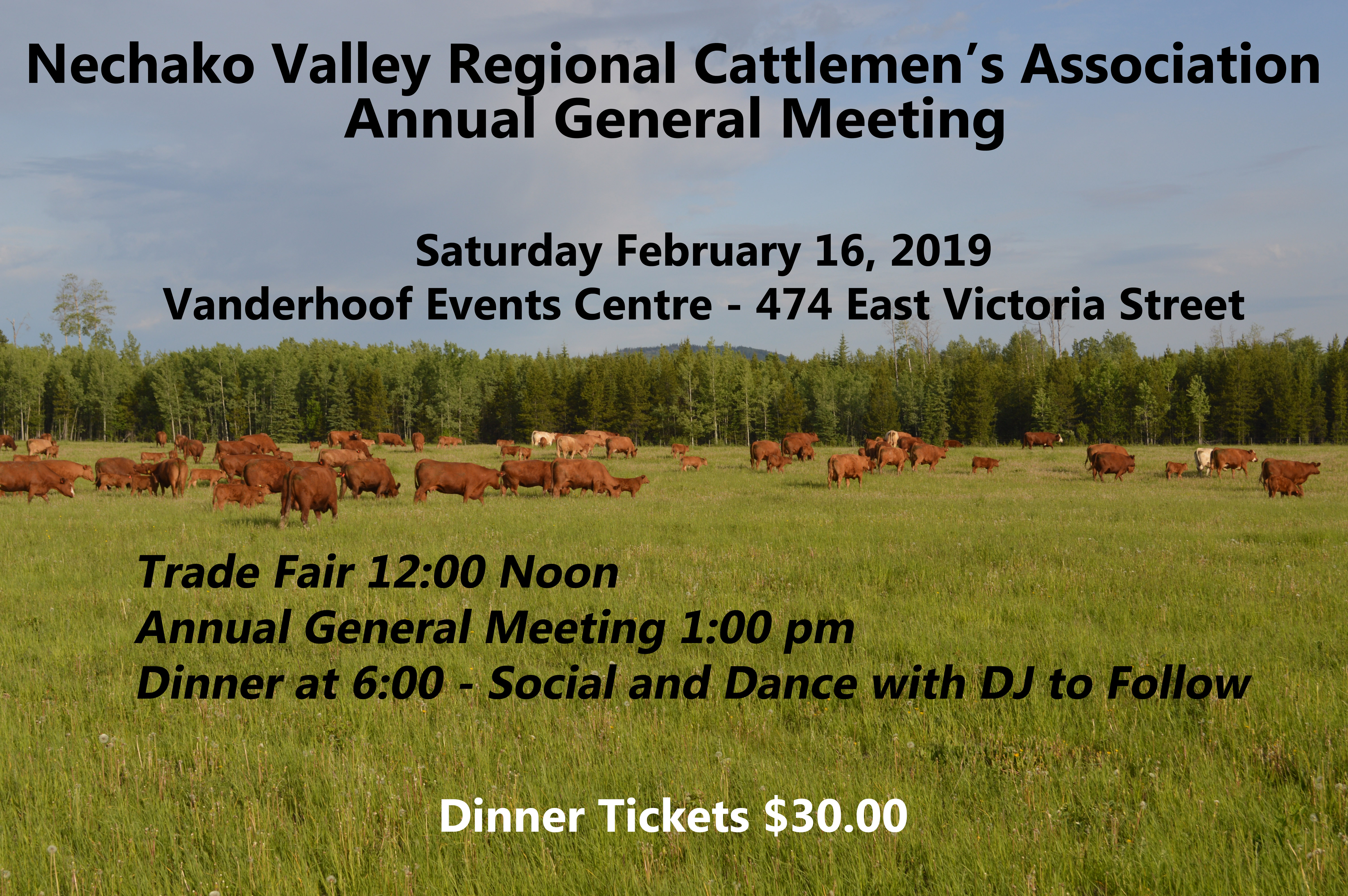 ---
Letter to Producers in RDBN Alert and Order Zones - August 17, 2018
I know many of you have spoken with RDBN's Agriculture Coordinator and/or RANGE/AGRI staff however if you are still uncertain on where to go for more information please take note of the following:
1) If you are a commercial farm in need of assistance please contact your local government (RDBN) Emergency Operation Centre (EOC) at at 250-692-3195 or 1-800-320-3339.
2) Links for official and updated information – please refer to official information sources when possible
Take care,
Lavona Liggins │ Regional Agrologist Hwy 16 East
BC Ministry of Agriculture │ p:250-614-7438 │cell: 250-565-5280
1-888-221-7141 │ AgriServiceBC@gov.bc.ca
---
Nechako White Sturgeon Newsletter
The Nechako White Sturgeon Recovery Initiative shared with us a short update on projects and ways agriculture can engage in recovery of this endangered species. Click the link to read the NWSRI Newsletter.
---
Environmental Award
The "Environmental Stewardship Award" is a prestigious award given to a local producer who is a leader in and exemplifies Environmental Stewardship within their respective operation. The Nechako Valley Regional Cattlemen's Association may present this Award Annually at its AGM.
Click the link to review the Environmental Stewardship Award nomination information.
---
Changes to Medically Important Antimicrobials
Please note changes around the use of Medically Important Antimicrobials that will take effect on December 1, 2018. MIAs for veterinary use will be sold by prescription only. Go to the Government of Canada website to learn more about the changes to MIAs.
---
Ken Fawcett – BC Cowboy Hall of Fame Ranching Pioneer
On January 8, 2018, Vanderhoof Online wrote a great article about local cattlemen Ken Fawcett. Click here to read the story.
---
2017 British Columbia AgriStability Enhancement Program
The British Columbia government has made special provisions to help producers suffering income declines in 2017.
This year has been a particularly challenging one for many producers across the province. The challenges include disasters like winter freeze, excessive moisture, and forest fires. The British Columbia AgriStability Enhancement Program allows agricultural producers to enroll late and without penalty into the existing AgriStability program. It also includes some enhancements to the AgriStability program but only for 2017.
How Does the New AgriStability Enhancement Program Work?
The program provides a late enrollment option for AgriStability.
You can enroll in the program for 2017 even though the deadline has passed.
Once you are enrolled you can apply immediately for an interim (advance payment)
The program includes an increase of program benefits for new and existing clients by eliminating the Reference Margin Limit.
In the past, the program has used a Reference Margin Limit which was based on the lower of your Reference Margin, or your average Allowable Expenses in the years used to calculate the Reference Margin
The program has an option that allows for an advance payment of up to 75% of the estimated final payment to be received early.
Finally the compensation rate will increase from 70% to 80% on the positive margin loss for new and existing clients.
Application Process
The deadline to apply is April 30, 2018
New participant, or previously opted out of AgriStability:
You will need to fill out a Late Participant Package. The Late Participant Package includes the forms you will need to complete and return in order to enroll for 2017 British Columbia AgriStability Enhancement Program
Please read the Program Guidelines and the Terms and Conditions (see Forms below)
Forms can be submitted to us by scanning and emailing, faxing or by mail
The program has an option that allows for an advance payment of up to 75% of the estimated final payment to be received early. If you would like to apply for this please complete an Interim Application Form (see Forms below)
If you have any questions please do not hesitate to contact us. Dedicated personnel are in place to assist you with the application process

Existing participant:
If have paid your 2017 fee by the deadline December 31, 2017 you do not need to re-apply

If you have not paid your fees by the deadline December 31, 2017, your deadline has been extended to April 30, 2018 you must pay by this date to be eligible
Please read the Program Guidelines and the Terms and Conditions (see Forms below)

Forms are available through the links below or by request.
If you have any questions please do not hesitate to contact us. Dedicated personnel are in place to assist you with the application process
Contact Details
Telephone: 1 877 343-2767 (toll free)
Fax: 1 877 605-8467 (toll free)
Email: AgriStability@gov.bc.ca
Mail: 2017 B.C. AgriStability Enhancement Program
Business Risk Management Branch
200, 1500 Hardy Street
Kelowna, B.C. V1Y 8H2

For more information and for links to the appropriate forms please go to: www2.gov.bc.ca/gov/content/industry/agriculture-seafood/programs/insurance-and-income-protection-programs/bc-enhanced-agristability-program

---
If you are or someone you know is an Agricutlura Business Operator impacted by the 2017 WILDFIRES please read...
In order to maximize the opportunity for impacted producers to be aware of and access programs that may apply to their individual situations I am including the following notices – if you were impacted please review, if you know of someone who was impacted please share with them, if neither of these apply to you please disregard.
There are three programs available.
A. AgriRecovery Program – application deadline January 31, 2018
B. Farm Business Recovery Advisory Services Program
C. Canadian Red Cross Support to Small Business Program
Click this link to read more details about each program and links to the programs.

---
IMPORTANT NOTICE FOR EXISTING WELL WATER USERS – exemption period of one-time application fee has been extended.
Click here for the weblink to this article.
"Blog Post #22 – Existing Well Water Users
December 15, 2017
Do you use well-water for irrigation or commercial purposes?
In response to public feedback on the application process for existing groundwater users, government is extending the exemption of the one-time application fee until March 1, 2019.
This extension will allow more BC groundwater users (who were using water on or before February 29, 2016) to save a minimum of $250 on their licence application while government continues to make the application process simpler and easier for everyone.
Groundwater licensing gives BC's businesses greater security by providing legal protection to your right to use the water for beneficial purposes. Licensing establishes your right, and provides fairness and clear rules for managing conflicts between water users during times of water scarcity. Licensing provides government with the information it needs to ensure our common resource is managed sustainably.
If your business currently uses groundwater, apply for a licence before March 1, 2019 to ensure your water rights are established and protected now and in the future.
For more information, visit FrontCounter BC to start a groundwater application, or contact FrontCounter BC staff at 1-877-855-3222 for assistance with the online application process.
Groundwater - Applications for Licences, Approvals at www.frontcounterbc.gov.bc.ca

---
Grasshopper Management
Scouting for grasshoppers and pre-flight management of grasshoppers can be of value.
Since early June, there have been a few reports from producers detecting recent grasshopper hatches in the Vanderhoof region; if you have had fields/border areas that have been of concern in previous years now may be a good time to be checking for young grasshoppers and making any related management decisions you may require.
Below are illustrations of young grasshoppers that may be helpful in identifying the growth stage (click on the image to enlarge).

Links to additional information:
---
AGM Report
Read the summary report of the NVRCA AGM for 2017. AGM 2017 Report
---
Bats
The Province of BC is asking the public for help in protecting BC bats from White Nose Syndrome. A disease that has killed more than 6 million bats in North America. Bats play a VERY important role in controlling insect populations, including agricultural pests. White Nose Syndrome has not yet been seen in BC but has been found in neighbouring regions. Please report any bats found flying or dead during this winter/early spring to the BC Community Bat Program at 1-855-922-2287 or info@bcbats.ca .
Do not attempt to capture sick or injured bats and do not touch a dead bat with bare hands due to a risk of rabies. If you do find a dead bat, collect it in a plastic bag using leather gloves, label the bag with date/location/contact information, freeze the bag and contact the BC Community Bat Program. For more information, visit our website.
---

---